When I saw there was a 3h30 run scheduled for this weekend, I decided to see if there was a small/local marathon somewhere I could join… I found the 'The Hague Beachmarathon', (a.k.a. 'The Black Marathon') which sounded really fun; small-scale, and pretty simple; after a short run out of town onto the beach, follow the beach until the 21km aid-station, turn back, and run back to the finish-line!
At the start I noticed that they took the 'small-scale' pretty serious; only about 15 runners lined up, but I had anticipated a lonely run anyway, so I just ignored that…
The first km's take us out to the beach, after about 2km we almost take the wrong road, but a little shortcut takes us all back onto the route. And then the fun starts…
These small events are not a race to anyone, so I just try and find my own rhythm, and enjoy the run, but when we enter the beach I'm in 2nd position… That's weird, that doesn't happen on bigger races! The 1st woman is running next to me, and together we run in silence, following the waterline to find some hard(ish) surface. It's nice to have someone to run with, since it helps to stay focused, and remember that it's a 'race', not a slow jog by the beach…
At 17km there's a short beach-exit, and we have to look if we're going the right way. The runner behind us joins us, he's done this run before, and he tells us to take the shortest route back to the beach. Now we're a running group of three, and there's a nice vibe going on…
Until the turnaround point everything is way too easy, so I know I should be worried about the wind… But I block those worries, and decide to enjoy it while it lasts, since there's nothing I can do about it anyway…
After the 21km point we run back; the pace drops (significantly!), and it's really hard work from here… There's a winter storm today, and we're heading straight into the wind from here… But now it's just counting down the km's… At 25km the group breaks and I find myself now in 3rd place. Runner #2 takes a 300m lead in the soft sand, and from now on all I want to do is to try and not drop back more that 300m; it's not a race, but it's good to have an excuse to keep pushing! Slowly, and I mean really, really slowly, I get closer to him… After 33km I overtake him when he's trying to get some nutrition in, and he tells me he's going to take it easy from here. I keep on running, and I start to think.. "it's not a race, but 2nd place on a marathon is pretty nice…" (runner #1 is nowhere to be seen, so I'm definitely not going to overtake him…). It's funny, especially on an event that is so small it shouldn't matter, but still… As said; it's always good to have an excuse to keep pushing…
The wind is getting stronger, the body is getting tired, the beach surface is getting worse… And the end just doesn't seem to get any closer… But eventually I make it to the beach-exit, and I start my way back to the finish. There's one corner where I know I have to pay attention, since that's where we almost went the wrong way earlier, but now I overcompensate… I find myself on a road, and realise that I don't recognise this from the way out… I plan to take the next turn to get me into the right direction, but when there's no turn coming the road takes me further from where I need to be… So all I can do is turn around a run back… Well, that's just an extra kilometer for free!
At the finish I see that the 1st woman overtook me when I did my extra loop, but I still came in 2nd male / 3rd overall after a really fun (and slightly hard) run!
It was a good training day; not just physically, but also for the mind… With all the mental challenges ahead (mainly the potential 'boredom' and lack of focus on a endless multilap course at the 2020 deca) Danielle (animo-sportpsychologie) is helping me to develop the right mental tools for my crazy plan… This was a good day; I went in without any plan, and found my 'flow' pretty easy, so there's quite a bit we can learn from today!
Oh, and this is my first marathon where I've seen wild seals on the course… So definitely a good day!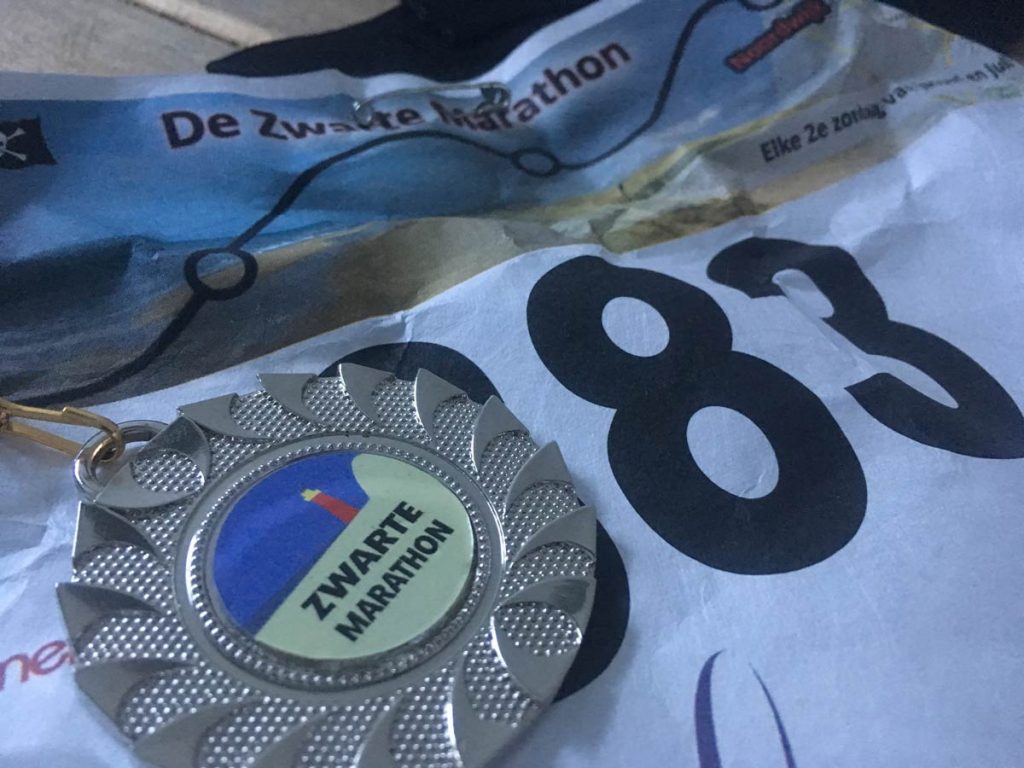 The Hague Beachmarathon (a.k.a. 'The Black Marathon')
42.195km (ended up being 43.48km…): 3'43'04